Posted by Lee Padgett on 20th Jan 2023
Mini excavators, like mini skid steers, can take on a vast array of commercial, industrial, and agricultural assignments.
The classic pairing of a mini excavator is with a bucket attachment that will enable it to dig fairly deep holes with flat bottoms with relative ease. Another common attachment for mini excavators is an auger drive attachment that can also be used to dig deep holes with straight walls.
But the great thing about mini excavators, like mini skid steers and compact track loaders, is that they are versatile. Just as skid steers can be equipped with attachments besides buckets or pallet forks, so too can you expand the capabilities of mini excavators with purpose-driven mini excavator attachments.
Especially when you use mini excavator attachments like these, which can do much more than dig.
1. Brush cutters
The hydraulic arms of mini excavators make them perfect for pairing with brush cutter attachments that are perfect for clearing land after larger trees have been removed. They can be used both at and above ground level, and are perfect for trimming thick, tangled brush as well as for overhead limb removal. This makes them ideal for clearing land prior to converting it to pasture or prior to planting, as well as clearing pond shores, trails, fence breaks, and rights of way.
2. Slab grab buckets
Those who operate mini excavators in demolition or construction would do well to equip their machines with slab grab bucket attachments. Whereas typical excavator buckets are designed for digging, slab grab buckets are used to break up and remove concrete slabs.
Simply slipping the teeth or the edge of a concrete slab grab bucket under the edge of a pre-cut concrete slab and lifting it can encourage it to break under its own weight at the cut. In the absence of a dedicated concrete breaker attachment, these are tops for removing large quantities of concrete slabs.
3. Rippers
Mini excavator ripper attachments are similar to slab grab buckets but less specialized. Got a large boulder that's stuck in the ground, or a big stump, but you don't have a stump grinder? In both cases, a ripper can probably do the trick.
Simple, strong, and with no moving parts, a ripper can easily dispatch obstinate obstacles that are wedged firmly in the ground.
4. Pallet forks
Pallet forks are not just for mini skid steers; you can equip your mini excavator with them as well. Needless to say, a set of pallet forks with strong tines can be used to lift, load, handle, and stack palletized merchandise and bulk goods.
But pallet forks are not just useful for managing palletized goods. They can also be used to lift, load, and move bulk construction materials such as tiles, bricks, and roofing materials, as well as bundled pipes and conduits. Pallet forks can also be used for moving brush piles, large rocks, hay bales, logs, and other large cumbersome loads.
5.Plate compactors
Our boom-mounted vibratory plate compactors use a combination of impulse force and frequency to achieve ideal surface compaction. They are ideal for trench backfilling, surface preparation, drain excavation backfill, road construction, and much more.
They can be used to compact a wide range of different soil types quickly, effectively, and efficiently and are equipped with numerous proprietary features including an oil bath bearing design that minimizes wear and maintenance and an integral flow control block that manages flow and pressure while protecting the hydraulic motor.
Our vibratory plate compactors also feature angled isolators that minimize shear stresses, extend the life of the isolator, and deliver optimal compaction force to the soil.
6.Thumb attachments
If your machine is already equipped with a bucket that you frequently use, then a hydraulic thumb attachment might be the most practical and versatile mini excavator attachment of all.
A thumb attachment is just like what it sounds like - an opposable thumb for an excavator bucket. They can be opened to allow the bucket to fill its primary purpose of excavation, and closed as needed to grapple or wrangle with irregular debris.
Thumb attachments transform mini excavator bucket attachments into a sort of grapple bucket attachment and can be used to move and manage brush, logs, pipes, construction materials, and all other manners of irregular, unwieldy, cumbersome debris.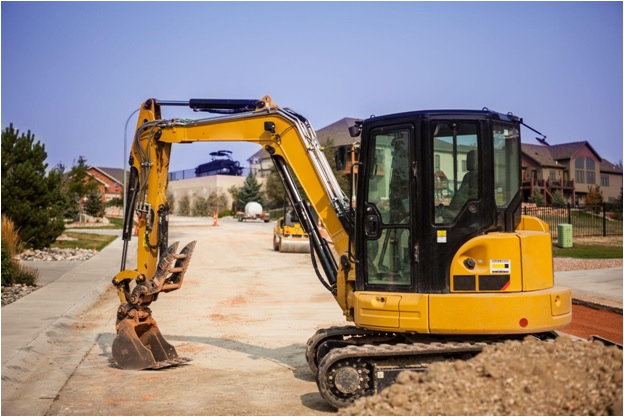 7. Trenchers
With a dedicated mini excavator trencher attachment, your mini excavator can cut clean, deep trenches easily and efficiently. Equipping a mini excavator with a trencher attachment can give it the ability to cut drain lines, trenches for laying pipes and utility, and much more.
Mini Excavator Attachments That Will Never Surrender
Spartan Equipment mini excavator attachments are the industry's toughest and will Never Surrender, no matter the obstacle. Made in America with American steel, Spartan Equipment attachments exhibit industry-leading quality and performance, are backed by 1-year warranties (see attachment details for warranty information), and are eligible for free ground shipping.
If you have any questions about our mini excavator attachments, contact our customer service department at 1-888-888-1085.