Our Mini Skid Steer EZ Backhoe Swing Arm unit makes digging a trench easy and quick. This attachment allows you to stay in position with your machine and swing to either side of the ditch to dump soil. We offer this unit with mountings for We offer this unit with mounting for Toro Dingo, Ditch Witch, Vermeer, Boxer, and Kubota (Please specify type of machine you own with order for correct mounting). Also, be sure to select your bucket size and swing kit option for accurate pricing.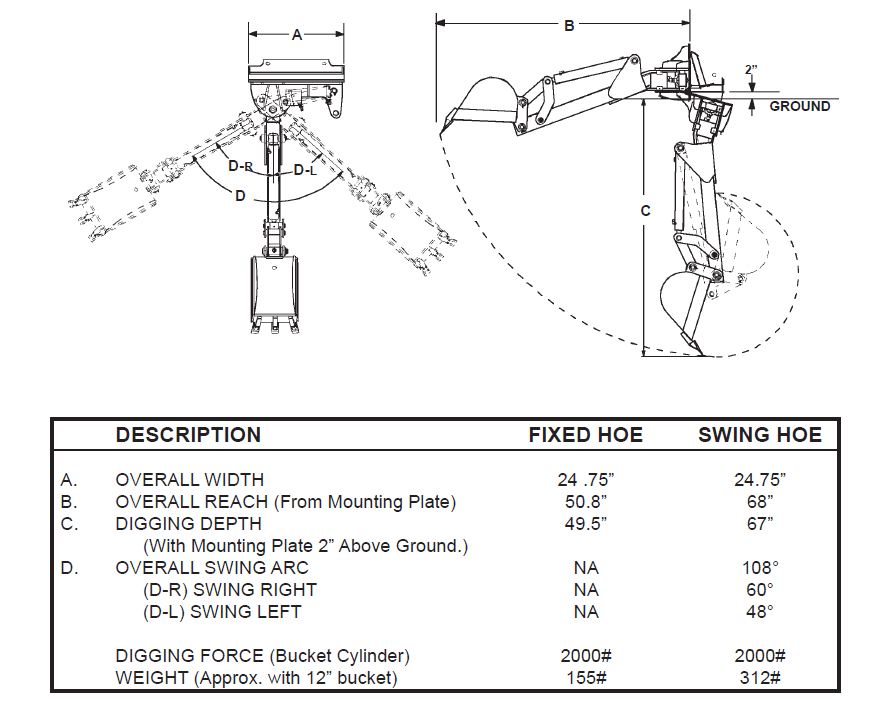 1 Year Warranty
Overall Width:
24.75 in
Overall Reach (From Mount Plate):
50.8 in
Digging Depth Max (With Mount 2in Above Ground):
67 in
Overall Swing Arc Right:
108 Degrees
Overall Swing Arc Left:
48 Degrees
Bucket Breakout Force:
2000 lbs
Weight:
315 lbs
High quality and works great

I have a vermeer 925tx that has an aux hydraulic port so I felt like the swinging feature would be beneficial to help avoid tearing up too much turf turning back and forth and I'm glad that I did.

I bought it with the 8" bucket primarily for trenching but knowing that I don't do enough trenching to justify getting a 4" and 6" trencher and this has a lot more flexibility to dig up the occasional sewer line (we own 30 rental properties and manage about 30 more).

I was worried this wouldn't work well, but in soft dird mild clay it works like a dream.

I don't expect to be pulling out huge tree stumps or anything like that, but this thing is stout -- no 1/4" metal to be found (which is what I noticed in some of the other backhoe attachment companies). If you have a mini, and particularly one that has an aux port, I wouldn't think twice about getting this attachment.
Shipping & Delivery Terms of Notice and Agreement
Special Note: Please be advised that all shipments and deliveries require the following:
1. Shipping and handling charges are based on the total weight of your order. Oversized or excessively heavy items may have an additional shipping cost. This charge may not be calculated until the order is being prepared. We will notify you if there is an increase in the shipping charge on your order prior to billing and shipping.
2. We ship via Old Dominion, XPO Logistics, Estes, UPS, FedEx, US Postal Service, or Broker Hire Subcontractors in the continental US. Shipments to Alaska, Hawaii, Canada, and overseas will have additional shipping costs applied.
3.Please allow around 4-30 business days for delivery of non-back ordered items in the continental US. Please also allow additional time for shipments to Alaska, Hawaii, Canada, and/or any international orders.
4. Entire orders will be shipped together, when and if possible.
5. Someone MUST be present to receive the delivery and to sign the receipt of goods.
6. It is required that a machine be present with the proper lift capacity to off-load freight as lift-gate service is NOT provided unless otherwise agreed to and paid for in advance.
7. No re-consignments or deliveries to other locations or addresses will be permitted once an order has been placed and the delivery address has been confirmed. In the rare case a client demands this, additional fees will be applied and must be paid in full prior to delivery of goods.
8. It is the client's responsibility to call the shipping company to arrange a time of delivery. We DO NOT guarantee that any prior-notice call or notice will be given once the order ships.
9. Any non-commercial ship-to-address will incur additional fees. In addition, any other special delivery requests such as Lift-Gate Service, Residential Address, Limited Access, Inside Delivery, Notify/Call Ahead Notice on Delivery, Secure Access, Job site or Construction Site, Farms or remote area deliveries will incur additional fees.
10. It is the client's responsibility to inspect goods upon their arrival. In the rare case of receiving an item that has been damaged during transit, it is the client's responsibility to note any and all damage on the Bill of Lading (BOL). We encourage you to take photos to document any damage and to notify Spartan Equipment via email at orders@spartanequipment.com. Clients will also be responsible for filing a freight claim with the carrier. Spartan Equipment will do everything we can to be an advocate on your behalf and assist in negotiating with the carrier to remedy the situation.
11. In the equally rare case of a lost shipment, please notify us if you have not received your order in a timely manner. Our goal is to stock the majority of items we advertise to sell and meet our client's needs promptly. If your order has been lost in transit, we will work with the carrier to find it. Please give us up to two weeks to notify the carrier about the issue and to locate your order.
12. Transactions shipped within the state of Maryland are subject to Maryland State Sales Tax. Items picked up at our facility within Maryland MUST be done via appointment only and are also subject to State Sales Tax.