The Spartan Articulating Skid Steer Brush Cutter Attachment is a great implement to add to your arsenal. It is designed for cutting banks, fence lines, and right of ways. It also is an excellent choice for clearing pond banks and cutting trails. This cutter has a significant reach advantage over our typical brush cutters. With a reach of 96" when extended horizontally and a vertical reach of 16 feet or more (depending on the reach height of your machine), it makes clearing unwanted tree limbs less of a chore. This brush cutter will also swing to the right 90° and can be used as a side cutter. It is equipped with two blades (5/8 in Thick X 11.5 in Long X 5.5 in Wide) and is powered by a high torque direct drive piston motor with a 4000 psi relief valve coupled to a heavy duty reduction gearbox. A range of hydraulic flow of 17-30 gpm and a case drain line is required. This unit comes with Three Hoses, Flat Face Couplers that require a return drain line, In-Cab Universal Electrical Attachment Control Kit that must me added to base price and our 1 year warranty. Machine MUST have a third return drain line (case drain) for this unit.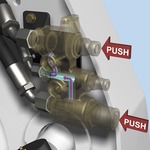 · Reach advantage over our typical brush cutters · Can be used as a side cutter · High torque motor with 4000 psi relief value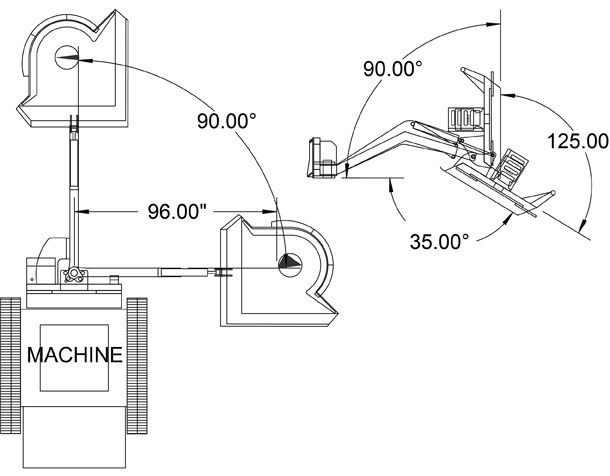 1 Year Warranty (does not cover the blades and hoses)
Weight:
1100 lbs
Hydraulic Flow Required:
17-30 gpm
Cutting Blades (AR400 Grade Steel):
2 Blades (5/8 in Thick X 11.5 in Long X 5.5 in Wide)
Material Cutting:
Up to 4 in dia
Deck Width (Overall):
48 in
Deck Thickness:
1/4 in
Cutting Width:
44 in
Height at 90°:
56.5 in
Length:
96 in
Forward Reach:
96 in
Vertical Reach (Varies by Loader):
254 in
Max Swing Degree (To Right):
90°
Total Range of Motion (Tilting):
125°
Max Tilt (Up):
90°
Max Tilt (Down):
35°
Motor:
Direct Drive 2.25 in dia
Articulating Brush Cutter

This cutter absolutely does the job at eliminating Honey Suckle and everything else that gets in the way. I highly recommend this piece of equipment

Waited many years to buy a piece of equipment to rip and tear honey suckle in my woods. I bought a Articulating brush cutter from Spartan Equipment. It is very well made looks and feels like it should last a lifetime. So far I am 100% satisfied with shipping, packaging, time to receive machine, customer service, and ease of setting it up and putting it to work. Will definitely purchase from them again. Five stars from me
Shipping & Delivery Terms of Notice and Agreement
Special Note: Please be advised that all shipments and deliveries require the following:
1. Shipping and handling charges are based on the total weight of your order. Oversized or excessively heavy items may have an additional shipping cost. This charge may not be calculated until the order is being prepared. We will notify you if there is an increase in the shipping charge on your order prior to billing and shipping.
2. We ship via Old Dominion, XPO Logistics, Estes, UPS, FedEx, US Postal Service, or Broker Hire Subcontractors in the continental US. Shipments to Alaska, Hawaii, Canada, and overseas will have additional shipping costs applied.
3.Please allow around 4-30 business days for delivery of non-back ordered items in the continental US. Please also allow additional time for shipments to Alaska, Hawaii, Canada, and/or any international orders.
4. Entire orders will be shipped together, when and if possible.
5. Someone MUST be present to receive the delivery and to sign the receipt of goods.
6. It is required that a machine be present with the proper lift capacity to off-load freight as lift-gate service is NOT provided unless otherwise agreed to and paid for in advance.
7. No re-consignments or deliveries to other locations or addresses will be permitted once an order has been placed and the delivery address has been confirmed. In the rare case a client demands this, additional fees will be applied and must be paid in full prior to delivery of goods.
8. It is the client's responsibility to call the shipping company to arrange a time of delivery. We DO NOT guarantee that any prior-notice call or notice will be given once the order ships.
9. Any non-commercial ship-to-address will incur additional fees. In addition, any other special delivery requests such as Lift-Gate Service, Residential Address, Limited Access, Inside Delivery, Notify/Call Ahead Notice on Delivery, Secure Access, Job site or Construction Site, Farms or remote area deliveries will incur additional fees.
10. It is the client's responsibility to inspect goods upon their arrival. In the rare case of receiving an item that has been damaged during transit, it is the client's responsibility to note any and all damage on the Bill of Lading (BOL). We encourage you to take photos to document any damage and to notify Spartan Equipment via email at orders@spartanequipment.com. Clients will also be responsible for filing a freight claim with the carrier. Spartan Equipment will do everything we can to be an advocate on your behalf and assist in negotiating with the carrier to remedy the situation.
11. In the equally rare case of a lost shipment, please notify us if you have not received your order in a timely manner. Our goal is to stock the majority of items we advertise to sell and meet our client's needs promptly. If your order has been lost in transit, we will work with the carrier to find it. Please give us up to two weeks to notify the carrier about the issue and to locate your order.
12. Transactions shipped within the state of Maryland are subject to Maryland State Sales Tax. Items picked up at our facility within Maryland MUST be done via appointment only and are also subject to State Sales Tax.