The Spartan Articulating Skid Steer Brush Cutter Attachment is a great implement to add to your arsenal. It is designed for cutting banks, fence lines, and right of ways. It also is an excellent choice for clearing pond banks and cutting trails. This cutter has a significant reach advantage over our typical brush cutters. With a reach of 96" when extended horizontally and a vertical reach of sixteen feet or more (depending on the reach height of your machine), it makes clearing unwanted tree limbs less of a chore. This brush cutter will also swing to the right 90° and can be used as a side cutter. It is equipped with two blades (5/8 in Thick X 11.5 in Long X 5.5 in Wide) and is powered by a high torque direct drive piston motor with a 3000 psi relief valve coupled to a heavy dute reduction gearbox. A range of hydraulic flow of 17-30 gpm is required.
This unit comes with 3 Three Hoses, Flat Face Couplers that require a return drain line, In-Cab Universal Electrical Attachment Control Kit that must me added to base price and our 1 year warranty.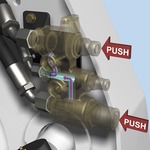 Unit MUST have a third return drain line for this unit.
· Reach advantage over our typical brush cutters · Can be used as a side cutter · High torque motor with 3000 psi relief value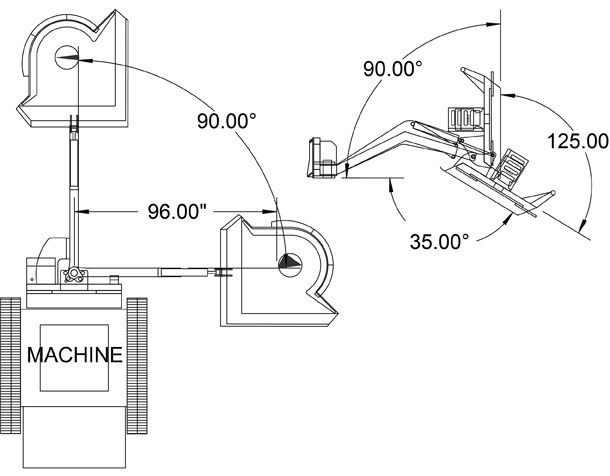 1 Year Warranty (does not cover the blades and hoses)
Weight:
1100 lbs
Hydraulic Flow Required:
17-30 gpm
Cutting Blades (AR400 Grade Steel):
2 Blades (5/8 in Thick X 11.5 in Long X 5.5 in Wide)
Material Cutting:
Up to 5 in dia
Deck Width (Overall):
48 in
Cutting Width:
42 in
Height at 90°:
56.5 in
Length:
93 in
Forward Reach:
93 in
Vertical Reach (Varies by Loader):
254 in
Max Swing Degree:
90°
Max Head Curl Degree:
125°
Max Head Tilt Degree:
35°
Motor:
Direct Drive 2.25 in dia