Our Professional Series Pin On Landscape Rake is an excellent attachment made to finely-groom seedbeds from hard, stony ground the easy, low maintenance way! Affordable, low maintenance, quality landscaping tool, for virtually any skid-steer loader. Hook-up is a snap. Two high-strength pins attach it to your existing bucket. It picks up rocks in reverse, but is also designed to push small amounts of dirt when moving forward. The low profile design makes visibility excellent! Heavy-duty, 1/4" steel shroud withstands constant pounding and abuse. Flame-cut holes permit a view of the working rotor, and let fine soil flow through (see large photo at top for closer detail). You won't dump your bucket often. When you do, you'll dump mostly rocks! One roller chain and two greasable bearings keep repair and maintenance to an absolute minimum, for a great return on investment. Spirally mounted, T400 Hardox Steel mining teeth are incredibly strong, providing years of trouble-free service. They do all the work, tilling the hardest soil, moving the rocks and debris into the bucket.
One rotor, with T400 Hardox Steel mining teeth, does all the work; gives years of productive service.

Spiral-mounted teeth pull material toward the center, helping avoid dirt trails.

Low maintenance - just two greasable bearings and one chain.

Highly versatile - fits any utility, high-capacity, or low-profile skid-steer bucket 60" to 83.5" wide.

Easy to install on your existing loader buckets and easy to remove - just two pins and two hoses.

The same Unit can be used on several different buckets.

When operated forward, it will level off loose soil.

Takes up less trailer space than the competition.

Needs dumping less often than the competition.

Unit comes with 74" Bucket | Hoses and 1/2" Flat Face Couplers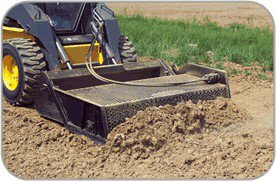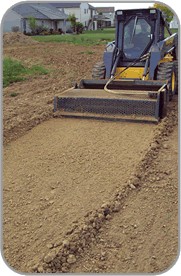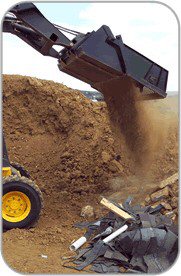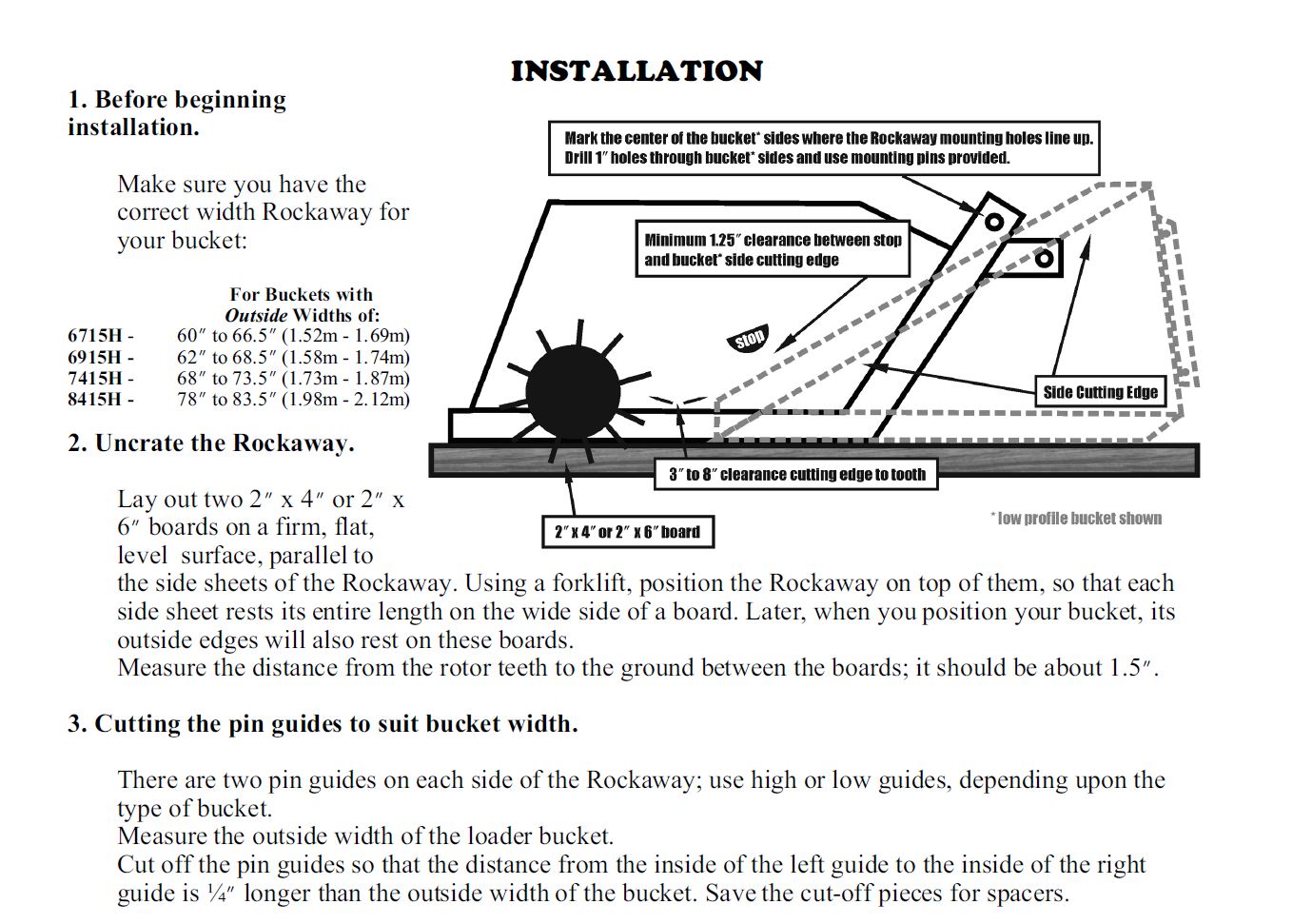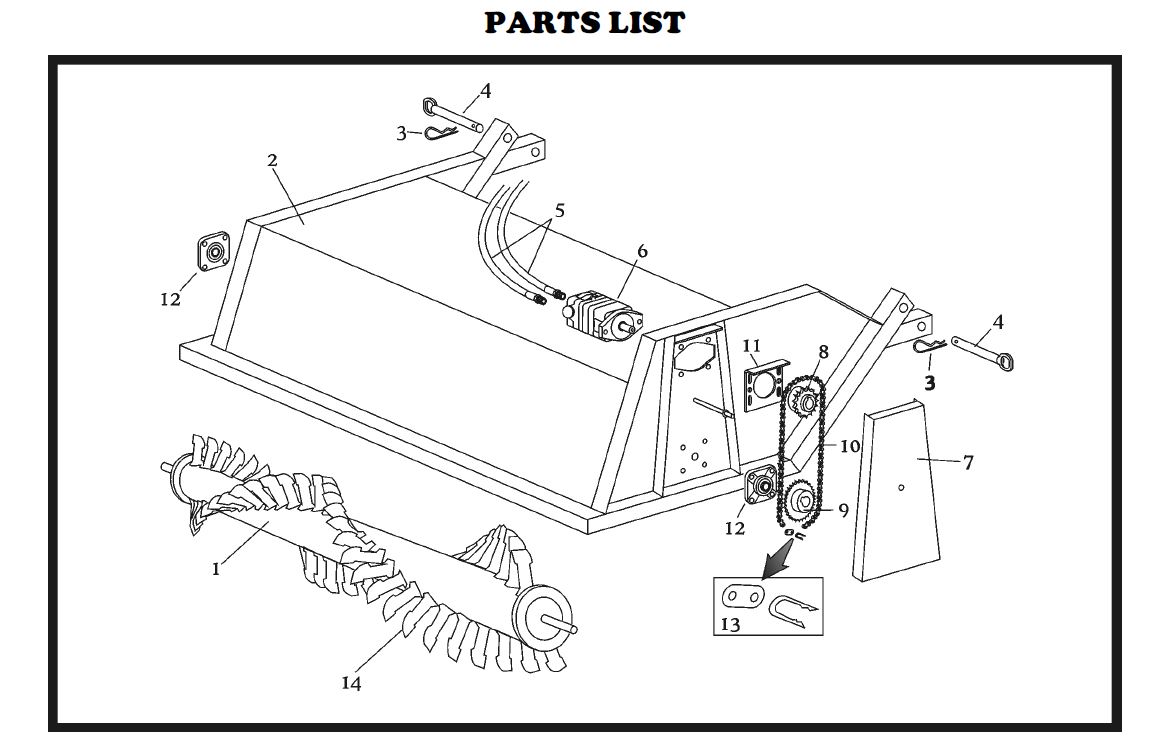 1 Year Limited Warranty
Bucket Width:
74"
Working Width:
73 in
Overall Width:
79.5 in
Overall Length:
46.5"
Overall Height:
21.5"
Drum Diameter:
12.5"
Replaceable Teeth:
74 1/2" dia
Required Flow:
12-20 gpm 3200 psi
Operating Weight:
1065 lbs
If manual required please contact us
Phone: 1-888-888-1085
Shipping & Delivery Terms of Notice and Agreement
Special Note: Please be advised that all shipments and deliveries require the following:
1. Shipping and handling charges are based on the total weight of your order. Oversized or excessively heavy items may have an additional shipping cost. This charge may not be calculated until the order is being prepared. We will notify you if there is an increase in the shipping charge on your order prior to billing and shipping.
2. We ship via Old Dominion, XPO Logistics, Estes, UPS, FedEx, US Postal Service, or Broker Hire Subcontractors in the continental US. Shipments to Alaska, Hawaii, Canada, and overseas will have additional shipping costs applied.
3.Please allow around 4-30 business days for delivery of non-back ordered items in the continental US. Please also allow additional time for shipments to Alaska, Hawaii, Canada, and/or any international orders.
4. Entire orders will be shipped together, when and if possible.
5. Someone MUST be present to receive the delivery and to sign the receipt of goods.
6. It is required that a machine be present with the proper lift capacity to off-load freight as lift-gate service is NOT provided unless otherwise agreed to and paid for in advance.
7. No re-consignments or deliveries to other locations or addresses will be permitted once an order has been placed and the delivery address has been confirmed. In the rare case a client demands this, additional fees will be applied and must be paid in full prior to delivery of goods.
8. It is the client's responsibility to call the shipping company to arrange a time of delivery. We DO NOT guarantee that any prior-notice call or notice will be given once the order ships.
9. Any non-commercial ship-to-address will incur additional fees. In addition, any other special delivery requests such as Lift-Gate Service, Residential Address, Limited Access, Inside Delivery, Notify/Call Ahead Notice on Delivery, Secure Access, Job site or Construction Site, Farms or remote area deliveries will incur additional fees.
10. It is the client's responsibility to inspect goods upon their arrival. In the rare case of receiving an item that has been damaged during transit, it is the client's responsibility to note any and all damage on the Bill of Lading (BOL). We encourage you to take photos to document any damage and to notify Spartan Equipment via email at orders@spartanequipment.com. Clients will also be responsible for filing a freight claim with the carrier. Spartan Equipment will do everything we can to be an advocate on your behalf and assist in negotiating with the carrier to remedy the situation.
11. In the equally rare case of a lost shipment, please notify us if you have not received your order in a timely manner. Our goal is to stock the majority of items we advertise to sell and meet our client's needs promptly. If your order has been lost in transit, we will work with the carrier to find it. Please give us up to two weeks to notify the carrier about the issue and to locate your order.
12. Transactions shipped within the state of Maryland are subject to Maryland State Sales Tax. Items picked up at our facility within Maryland MUST be done via appointment only and are also subject to State Sales Tax.